Through the Years...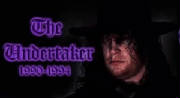 1990-1994: The original Undertaker, modeled after the late 1800's style Undertakers of the old west, exploded onto the scene at 11/22/90 Survivor Series. He made a strong showing, against the American Dream, Bret Hart, and Tombstoned Koko B Ware out of the match. He charged through the year as an evil force that fans had an attraction to. At his first Wrestlemania (WM7), he fought and defeated Jimmy "Superfly" Snuka, the Phenom of his time, and earned the title of the Phenom. He then won his first WWF world title reign from Hulk Hogan at Survivor Series 1991, 1 year after his debut.
The Undertaker continued to awe wrestling fans with his power, agility and athletic ability through the years; and through feuds with Gonzalez, Kamala, and others, ending with a fued with Yokozuna(RIP) at the 1994 Royal Rumble, where it took 10 huge men to put the Undertaker in his own casket. After that, the Undertaker disappeared for a few months, and a faker returned to take his place. At SummerSlam 1994, the real Undertaker returned with Paul Bearer as-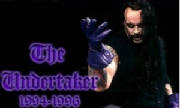 1994-1996: The Deadman Undertaker. With similiar attire, except the gray accents becoming dark purple and more makeup, the Undertaker changed from a living undertaker of men, to a dead undertaker of Hell. He continued to dominate fueds, usually regarding his urn, and eventually defeated Yokozuna in a casket match. He later suffered a facial injury that resulted in him wearing a mask for a short time. In the twilight of the deadman, he feuded with and defeated Deisel at WM 12, and then met with his new nemesis Mankind. After a long back and forth feud, a Boiler Room Brawl (where Paul Bearer betrayed Taker for Mankind) and a Buried Alive match, the Undertaker had a rebirth at the 1996 Survivor Series and slowly began his metamorphasis to-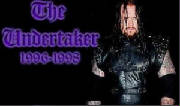 1996-1998: The Lord of Darkness. With a more medieval edge, the Undertaker continuted to battle in the WWF with his fans behind him all the way, and captured the World Title once again in 1997 at WM the 13th. He kept the title until Summerslam of that year, had a short feud with HBK (and had the first ever Hell in the Cell match with HBK), then came fodder from a previous angle in the year (the "secret" angle w/ Paul Bearer), Kane (Lame as he's known on this site). At first, the Undertaker refused to fight and Lame ended up costing him match after match. At Royal Rumble, 1998 (UT vs HBK in a casket match), it took several men and then Lame to get Taker in his own casket again, and Lame and Paul Bearer set it ablaze.
The Undertaker survived, and had truly become the Lord of Darkness. He fought and defeated Lame at WM 14, then battled and defeated Lame once again in an Inferno match. Then in June 1998, he once again clashed with Mankind in a now legendary Hell in the Cell. He stayed a fan favorite for most of the remainder of the year (though his most loyal fans are always with him), even in a match against Asstin at Summerslam 1998. By the end of 1998, Undertaker re-united with Paul Bearer, and began prophesizing the Ministry of Darkness. The Lord of Darkness showed the world what awaited, and "sacrified" Asstin on a Taker symbol, leading into another Buried Alive match (which Taker lost due to Lame interference). Undertaker was off TV for about a month, and returned in early 1999 with his-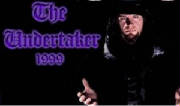 1999: Ministry of Darkness. The prophecy had come true. Farooq and Bradshaw had become the Acolytes, Dennis Knight had become Mideon, and at the Royal Rumble of that year, Taker recruited Viscera, and a little later the Brood (Gangrel, Edge and Christian). With the Undertaker as the leader of the MOD, it gave him a chance to stay in the spotlight while taking things physically easy, and used his status to attract attention to the wrestlers in his group. Later the Undertaker went from the mastermind who let his minions do the work, to the leader on the battlefeild. At WM 15, he lost the Ministry robe and in new attire, battled, defeated and hung the Big Bossman in another Hell in the Cell. The Brood eventually fell away from the Ministry, and the Ministry itself later merged with the Corporation to become the Corporate Ministry.
The Undertaker was steadily the main menace against Asstin in the ring, with Vince being the "Higher Power". The Undertaker continually showed disdain towards Vince and his attitude towards him, and began moving away from the Corp MOD, taking Paul Wight under his wing and trying to make the Big Show worth the $10 mil the WWF paid for him. While a good mentor, UT can't work miracles. So with the Ministry mostly still in the background and on his side Taker took a leave from the WWF for a bit. After several months of healing, the Undertaker smashed back into the spotloght at Judgement Day in May 2000 as-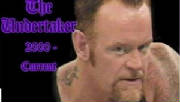 2000-Current: The American Bad Ass. More of a mortal man now than ever, the Undertaker returned to the WWF as a bad ass biker with an attitude (as that's the WWF current campaign). Though mortal, he eludes to the past, bringing up terms like "Deadman" and saying "I may not dress like Satan anymore, but I'm still down with the Devil and I will go medeival on your ass". Some fans have mixed feelings about his most recent incarnation, but the ABA is still a popular draw, and a force to be reckoned with in the ring. Are you scared? He's here.
At Wrestlemania 2001, Undertaker defeated Triple H to retain his unbroken Wrestlemania streak, and went on to feud with Austin/Triple H, which was dropped because people were sick of Austin/Taker feuds that had gone on for so long. It didn't help matters that Taker (and Kane) were usually pussified during the feud (save when Taker threw Austin threw a window, then attacked him in an ambulance afterward). Undertaker was out of the main event for most of the year following that, and after Survivor Series Taker turned heel.
Undertaker defeated Rob Van Dam at the Vengence PPV to become the hardcore champion. He went on to take out the Hardy's and Lita in some vicious attacks, fought with small frys like Taijiri and Spike Dudley, which led up to a match with the Big Show. Taker won the match, but had to take time off due to yet another botched chokeslam by the Show. Taker made it back in time for the Royal Rumble 2002, and took out everyone in his path. It would surprisingly be Tough Enough winner Maven to eliminate Taker (thanks to a distraction by Lita), which made a furious Taker come back in and destroy him.
Currently Taker has his sights set on Maven, but tends to interfere in matches to stake the claim on his yard and demand respect.

Other Stuff on the Undertaker...
Undertaker 'tired of bitching' about injury
by Phil Speer (date approx: Jan 22nd, 2002)
GREENVILLE, S.C. – Undertaker may not be 100 percent physically, but he doesn't much feel like talking about it.
"My hip is still really sore," he told WWF.com. "But basically I'm tired of bitching about it."
The three-time World Wrestling Federation Champion has been battling a painful case of sciatica since the Jan. 3 episode of SmackDown!,
when he landed awkwardly after a Big Show chokeslam. He hadn't wrestled since then until he stepped in the ring on Sunday for the Rumble.
"(The injury) was on my mind, but you can't go in the ring thinking about it," he said. "Otherwise you'll injury yourself even worse."
Asked if he was in fact feeling worse on Monday after being in the ring for the first time in three weeks, Taker responded only with a stern "no comment."
Instead of thinking about his injuries at the Rumble, he concentrated on putting beatings on the Hardy Boyz and Maven. After Taker eliminated Matt and Jeff Hardy, they distracted him, and Maven dropkicked him from behind, eliminating the Dead Man.
"I was well on my way until the fluke of all flukes happened," 'Taker said.
After he was eliminated by Maven, Taker snapped. He went back into the ring and grabbed the "WWF Tough Enough" winner. He then proceeded to assault him throughout the entire arena. He even belted him with a steel chair over the head so hard that the chair was practically bent in half.
"I'm a firm believe that if you're going to swing a chair, swing it," he said.
(credit: wwf.com)
The Undertaker on XTRA Sports Radio Show
(date possibly summer of 1998)
The Undertaker on XTRA sports radio L.A./San Diego Thurs night; 8:20 - 9:00 p.m. promoting WWF RAW tapings at Anaheim Pond and San Diego Arena.
He first talked about how he got into the wrestling business. He was approached by other wrestlers at a gym he worked out at and experienced some difficult periods trying to get noticed by promoters. He played basketball in college. He was not into football. Said it is difficult to train while on the road. Said that if he lived a normal lifestyle, he would have more muscle mass and more muscle definition. He pointed out that in his schedule, quality workouts are more important than the quantity of workouts.
He said that in Hell in The Cell 2, when Mankind fell onto announcer's table, it was as if it occurred in slow motion. He referred to the incident as one of the "strangest" experiences in his life. He compared it to an out of body experience watching Foley fall 15 to 25 feet down onto table. UT worked the match with 2 fractures in his ankle. He said Foley is the one of the toughest guys in the business. Mentioned that Foley makes up for lack of technical skills with guts and a big heart.
He took calls for approximately half an hour long!:
He was asked if he has any off-camera friendships with Austin or DX. He answered question slowly and carefully by stating that he and Austin don't share beers and does not have friendships behind the curtain. He says he is too busy on concentrating on other things. (I thought he dodged the question so that he would not expose his off camera relations with others.)
When asked of Flair coming to WWF. He said he does not know anything about Flair's contract status. He just reiterated fact that WWF is going with a youth movement with one exception. That being the middle-aged crazy Terry Funk. He said the Flair question comes up to him very frequently.
When asked if Ultimate Warrior's coming back to WWF. Said Warrior has probably come back too many times before. He more or less said Hellwig was a head case and that he thinks Hellwig does not have much to offer to the wrestling industry. UT believes it takes more than face paint and rope shaking to perform to the level that crowds expect to see at a house show.
Said Superfly Snuka was way ahead of his time. Snuka did aerial moves when no one else did them. UT has the utmost respect for Snuka.
Was asked if he was in cahoots with Kane. Said that if he was in cahoots w/Kane, he sure wasn't about to reveal it on a syndicated radio show.
He said wrestlers have to understand there is a fine line between working hurt vs. injured. Working injured will take some time away from a worker's career. He said the younger workers often work injured so they don't get out of favor with the promoters. Once you become an established star, then you can afford to take time off to heal injuries.
He said he has couple more years on current contract and felt WCW is not an option. He said WCW told him that he was not star material and proved them wrong by successful UT gimmick in WWF. He feels loyalty to McMahon for making him a star and will end his career with WWF. (I was happy to hear this.) He does not follow the storylines of WCW too much. He leaves that up to the suits backstage. He concentrates on his role as the UT and giving the fans a good show. He said WWF morale is very high with the recent ratings victories. He feels no WWF superstar can beat him one on one. He said all his recent losses are the result of outside interference. He looks forward to Summerslam showdown with Austin since he knows Austin does not have any alliances with other wrestlers and expects no outside interference in the match.
When asked of his opinion on Rodman/Malone entering the squared circle he said both are great athletes.
However, to perform at a high level in front of an audience, it takes a lot of preparation. He more or less said that Rodman/Malone did not have the proper training to work a match to the level he expects to see.
He disrespected HBK by calling him a "small man" in the sport. He feels a good "big man" like the UT will always beat a good "small man".
Every caller was a wrestling fan and complemented UT. They seemed to be WWF fans rather than WCW fans. UT thanked everyone. In my opinion, many of the wrestling fans out there are very articulate and are "smart" fans who regularly track the wrestleboards on the internet.
The Undertaker Adds Dark Poetry to Rasslin
By Gemma Tarlach
of the Journal Sentinel staff
-- The Man from the Dark Side. The Phenom. The Reaper.
The professional wrestler known as The Undertaker, in Milwaukee tonight for
the weekly World Wrestling Federation show being broadcast live from the
Bradley Center, has been called all this and more. At 6 feet 10 inches and 320-plus pounds,
the Undertaker is one of the WWF's biggest stars -- in every sense of the word. He manhandles
other wrestlers as if they were party favors and thrills fans with
over-the-top-rope acrobatics.
But right now, the Man in Black is dead tired.
In Madison for a half-day media blitz, Taker enters the lobby of a local radio station to plug
the WWF's Tuesday show at the Kohl Center. He moves as if rigor mortis has settled into his
limbs. When he pauses on the threshold, filling the door frame, he lets out a groan that
sounds like a rusty cemetery gate creaking open.
A small crowd in the lobby waits for him to rumble his signature line: "Rest in Peace."
"I'm just stretching" he says. He spies a coffee pot and pours himself a
cup.
"It's decaf," the station receptionist tells him.
He jumps back like Superman from kryptonite. Someone runs to fetch him the real stuff.
Taker groans again.
"We've been up 22 hours straight," explains Jimmy Dotson, director of
security for the WWF, who travels with the big man. Wait a minute -- Taker needs a bodyguard?
Stalkers have been a continuing problem, Dotson says, and merely overzealous fans mob their
hero everywhere.
"Sitting around airports is a real drag," Taker says later in the day, after surviving radio
promos at three different stations. "Whenever you get recognized, it turns into an impromptu
autograph signing. You try to be as gracious as possible, but you're tired. If you say no,
people don't understand and just think you're arrogant."
At the moment, Taker is being gracious. He autographs a stack of glossy 8-by-10s for
children of station personnel, frowning when he smudges a signature and then carefully
redoing it. He answers calls from listeners during an on-air interview in his best Dead
Man Walking voice.
Once off the air and away from the crowds, Taker's native Texas drawl creeps back into his
voice. But otherwise his wrestling persona isn't much different from the man himself -- so
much so that even his closest friends and co-workers call him Undertaker.
"I'm very spiritual," he explains. "I have a real connection with what I
talk about as The Undertaker. I've always had what some would call a morbid fascination with
the dark side. . . . I'm a little bit different that way."
While Taker's size, natural athletic ability and business acumen (he went to college on a
basketball scholarship and got a degree in sports management) made him a natural for
wrestling superstardom, the early years of his career were rough going. Wrestling under a
different name for World Championship Wrestling, the WWF's arch rival, Taker wasn't allowed to
make his morbid views known.
"They really censored me," he says of his days as a carrot-topped bruiser who
rarely spoke. "They told me, 'You have no personality.' "
Fortunately for both Taker and the WWF, when he joined the organization in 1990,
WWF owner Vince McMahon let him run with his necrocentric ideas. Since then, he's consistently
been one of their top draws. His legions of fans, nicknamed "Creatures of the Night," identify
with his melancholy demeanor and tendency to wax poetic about communing with lost souls.
His almost Byronic nature make him unique in a world dominated by big-mouthed blonds forever
crowing about their greatness.
The T-shirt-wearing, action-figure-buying Creatures have helped fund a comfortable existence
for Taker, who now resides in Florida -- difficult as it is to imagine the
Man from the Dark Side calling the Sunshine State home. On his rare days off,
Taker can afford to design and tool around in his collection of custom motorcycles.
But success has had its price.
Just 36, Taker navigates a stairway with the care of a man twice his age, grumbling under his
breath about bad hips. More than a decade of almost nightly poundings has taken its toll.
A relentless schedule puts him in the ring about 250 nights a year, not including travel time
and scheduled public appearances like his Madison media blitz.
"Injuries are my only breaks," he said wearily. "Then I get some time
off to recuperate."
He keeps going simply because he is The Undertaker, and will always be -- until fatigue and
chronic pain, hellhounds forever at his heels, catch him.
"It's a very fine line between dictating to your body what it should do, and doing what your
body tells you it should do," he says. "But I'll be around as long as I can deliver what
people expect to see from me. I don't want to be out there as a shadow of what I once was."
Has all the pummeling been worth it?
"Yes," he says with absolute certainty. "I made a sacrifice when I made
the decision to do this, but it's paid off ten-fold."
The man in black has more than enough gray matter to articulate his many ideas about
life -- and death -- but he's run out of time. A WWF publicist signals him to wrap things up.
He's got less than half an hour to make a final stop and then catch a flight home for a whole
day and a half off before hitting the road again.
"Don't let people tell you that you can't achieve something because you're
different. It's OK to be different as long as you do it without hurting anyone," he says as he
stands, cracking a rare smile. "That's pretty ironic, coming from the Undertaker, since it's
my job to hurt people."
The Undertaker: "I made a sacrifice when I made the decision to do this, but it's
paid off ten-fold."
undertakerswildbride